Other things you can ask Siri
Siri can do much more than find you a great show to watch. You can also use Siri to open an app or switch to another app on your Apple TV, control the playback of a video you're watching, learn more about the actors or directors of a show, and much more.
Navigate Apple TV
You can use Siri to open or switch to an app on your Home screen.
Ask Siri. Say something like:
"Open App Store"

"Launch Netflix"

"Go to Photos"
While playing video
When you're playing video content there are a number of commands you can use to control playback.
Ask Siri. Say something like:
"Pause this"

"Play from the beginning"

"Skip forward 90 seconds"

"Jump back 10 minutes"

"Turn on closed captioning"

"Turn on French subtitles"

"What did she just say?"

In this case, Apple TV skips back 15 seconds and temporarily turns on subtitles.
Get more information about a show
You can ask questions to get more information about a program you're watching.
Ask Siri. Say something like:
"Who stars in this?"

"Who directed this?"

"What's this rated?"

"When was this released?"
Get information
You can ask Siri about other topics, like sports, weather, and stocks.
Ask Siri. Say something like:
"Who won the World Series?"

"Who are the Mavericks playing tomorrow?"

"How's the weather?"

"What's the weather in Vancouver?"

"When is sunset in Paris?"

"Where's the NASDAQ today?"

"How's Apple's stock?"
The results appear at the bottom of the screen.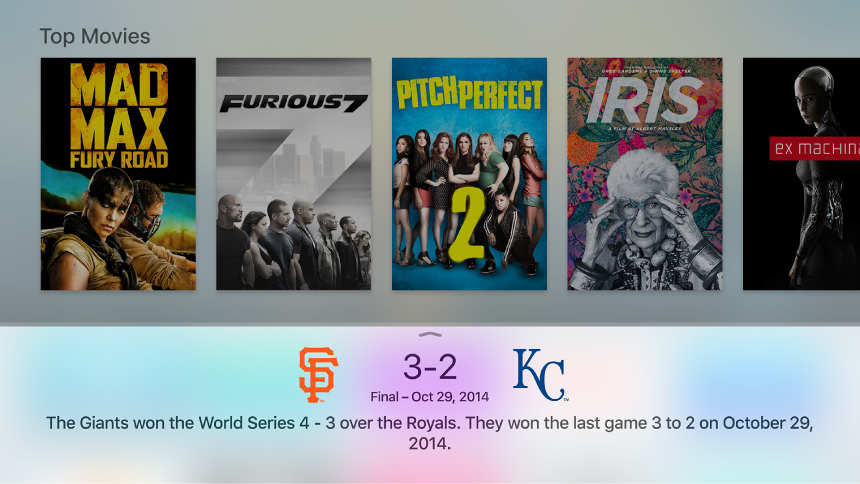 In some cases, you can swipe up on the Touch surface to reveal more information.
Note: Not all Siri commands are available in all apps.